Repair Corrupt SharePoint Database
MS share point is the integrated web application to store database records on the website. SharePoint server tool has multiple features like automatic database management, easy online file sharing, and web portal integration. The user data on share point server is stored in MDF files. Because of similarity with office suite, MS share point can be integrated with different MS Office programs. However, there are situations when these MDF files also get corrupt or damage.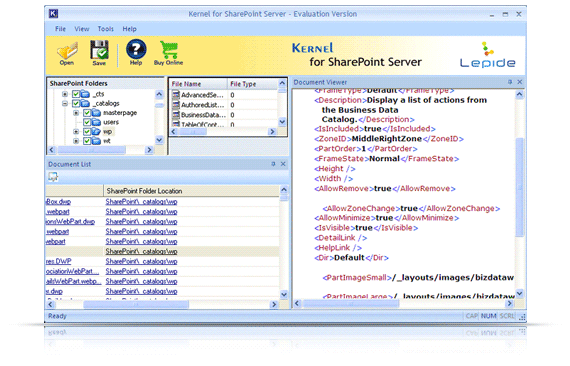 Causes of SharePoint database corruption
MS share point databases may be damaged or corrupt due to any of the following reasons:
Accidental erasing of share point web portals
Corrupt hard disk or portable storage media containing MDF files
Virus intrusion through host server
Abnormal internet speed on the system
About Repair SharePoint Software
MDF recovery software is very much well equipped with innovative scan engine to repair corrupt MDF files of share point server. The Repair SharePoint utility can be used for MDF files created with MS share point 2007 or share point 2010. It can fix all corruption errors of share point websites:
Server Error in '/_vti_bin'
Service unavailable
User not found
Read failed from target
Write failed to target
Database recovery with Repair SharePoint Database Software
SharePoint database recovery software with MDF recovery program is offered in two modes i.e., Raw file and Live SQL instance. The raw file recovery option allows the software user to retrieve share point databases like tables, documents, labels, indexes and stored procedures from the inaccessible MDF files. The live SQL instance mode should be used for restoring corrupt and deleted share point databases on WSS site through live SQL server. Repair SharePoint Tool allows the user to save the recovered MDF files at specific location of his/her system.

Evaluation version - Repair SharePoint program
You can evaluate the share point database recovery process with free version of MDF recovery program. The free version successfully recovers recovered data to preview. However, permission to save recovered tables and files is not available with demo version of Repair SharePoint tool. One has to buy the full version of the utility so that repaired MDF files be saved on the system or network drive.